NFL players host football camp at BCHS – ages 11-15
June 1, 2019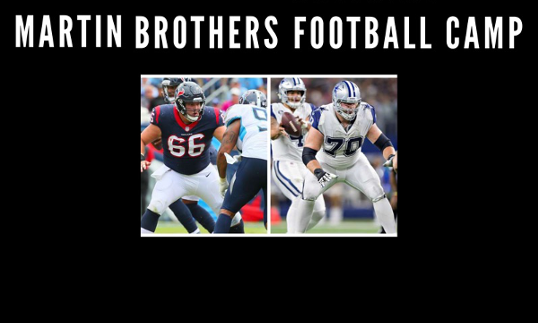 If you love football, here is your chance to learn from the pros!
Boys ages 11 to 15 are invited to attend a USA Football FUNdamentals clinic at Bishop Chatard High School led by NFL players Zack Martin of the Dallas Cowboys and Nick Martin of the Houston Texans. The clinic will be held Saturday, June 8, from 2 to 5 p.m. in the Bishop Chatard Athletic Stadium. Registration directions are below.
Bishop Chatard alumni Zack '09 and Nick Martin '11 understand the importance of developing sound football fundamentals early, and their clinic will include drills designed to teach passing, catching and running skills in a non-contact setting. All skills and drills selected are based on USA Football's Player Progression Development Model, ensuring children are learning in an age-appropriate manner, based on their cognitive and physical maturity.
WHAT: Martin Brothers Football Camp in partnership with USA Football's FUNdamentals program
HOSTS: Dallas Cowboy Zack Martin, Houston Texan Nick Martin, USA Football
WHO: Boys ages 11 – 15
WHEN: Saturday, June 8, 2019, 2 to 5 p.m.
WHERE: Bishop Chatard High School Athletic Stadium, 5885 Crittenden Ave., Indianapolis, IN 46220
COST: Free
Registration
Those registering for the Martin Brothers Football Camp must create an account with USA Football.
The log-in link will take you directly to the camp registration page.
This camp is provided through a grant from the NFL Foundation, a non-profit organization dedicated to improving the lives of those touched by the game of football.