Become an Athletic Booster Club Member!
The Athletic Booster Club has directly funded between $30-$45,000/per year! This assistance enables our teams to succeed & keeps down additional expenses for the department, athletes and their families. Join now to receive your all-season pass and membership gift.
BECOME AN ATHLETIC BOOSTER CLUB MEMBER AND YOU COULD RECEIVE THESE BENEFITS*:
Season pass(es) for all non-tournament home athletic contests (What a deal!)**
Membership gift
Periodic specials and BCBC email updates
Thank you listing in our seasonal athletic programs and on the Athletic Booster Club website
Best of all, your support directly funds all athletic programs and keeps expenses down
*benefits received vary with membership level
---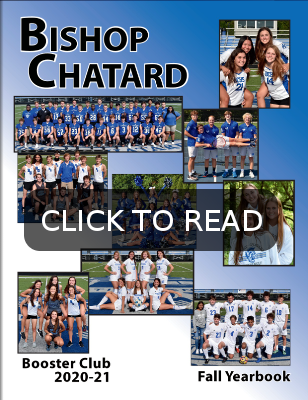 View our 2020 Fall Sports Magazine online
Advertising in our Sports Magazines
Become a BCHS Athletics Sponsor and include your company's ad in our seasonal sports programs! Deadline to be in the program starting with the fall edition is usually in early August.
Become a Sponsor – Online Payment
Volunteer Opportunities
Hospitality Committee
Help plan and implement raffles, Trojan Tailgates, garage sale and other events
Contact Co-Presidents:
Joe Annee – jannee@trilogyinc.com
Amy Beausir – mollyandmyrtle@gmail.com
Sponsorship and Publications Committee
Assist in selling ads, finding corporate sponsors and organizing publishing of the seasonal programs
Contact: Mike Ford, mford@bishopchatard.org, 251-1451, Ext. 2256
Membership Committee
Help solicit memberships and organize membership data
Contact:
Jennifer Priser – boilerjen23@gmail.com
2020 / 2021 Corporate Sponsors

Become a Bishop Chatard Athletics sponsor to support athletes is all sports at the school. Sponsor benefits include ads in our seasonal sport magazines each year. Deadlines for the fall magazine usually are in early August.
Individual Sponsors
2020/2021 Individual Sponsors
Pastors & Friends of Archdiocesan North Deanery Parishes
The Doc Kenney Family
The Leone Family
Athletic Booster Club Members

Athletic Booster Club Members are an important part of our Athletic Program support. Various levels of membership are available, many including season passes for home events. All memberships receive periodic specials and BCBC email updates!

 MEMBERSHIP REGISTRATION FORM – Become a Member Today
2020/2021 Varsity Club Members
Steve Ahlfeld, MD – Ahlfeld Sports Medicine
Dan & Betsy Babcock – Babcock Electric Company
Brent Braun
Matthew Duncan – The Duncan Group |BAIRD
Steve & Lisa Klipsch
Christine & Bryon Konvolinka – Benefit Solutions
John & Maureen Lewis – Lewis and Wilkins LLP
Mike & Jackie Noll-The Noll Landscape Group
O'Brien Automotive Family
Joel & Mary O'Brien-Printing Partners
Paula & David Smith-Leo Signature Realty
The Sullivan Family
2020/21 Trojan Pride Members
Maria Arteaga
Andrew Borland
Kasey & Amy Corbett
Danny Feeney
Cherie & D.R. Foley
Jenny & Peter Forsee
Jay & Nicole Geise
Glenn & Cindy Harkness
Steve & Betsy Johnson
Jennifer Lee
Bob Mack
Brent & Tracy Mason
Sara Mason
Mike & Heather McGinley
Aaron Morrow
Karen & Marshall Parker
Greg & Tracy Ross
2020/21 Royal Blue Members
Ana Adams
Michael Anderson
Anne and Todd Andrews
Joe and Jenny Annee
Robert & Julie Armstrong
Bryan and Gina Ashley
Elizabeth Assalley
Tom Assalley
Chris and Dana Ball
Mary Ellen & Michael Ball
Jim & Amy Barbar
Daniel & Shannon Bayha
William and Jennifer Bean
Amy & Kevin Beausir
Karin & Robert Bell
Jacquie Berry-Schroedle
Tony & Amy Board
Amy & Mike Borchers
Mandy & Brent Borg
Shannon and Heather Bosley
Mark & Amy Bridenstine
Jody & Tom Bruce
Sarah & Pete Bustamante
Sandi & Mark Carter
Sharea & Michael Clark & Brehm girls
Regina Cole
Eileen & Brad Countryman
John & Molly Creamer
Mike & Sharon Cyganowski
Gary & Sandy deCastro
Andy & Chanda Deck
John DeFabis
Robert & Frankie Dickey
Brian & Sarah Dilts
Mary Donnelly
Nicole & Brian Duncan
Kristin & Mike Felts
Jack & Beth Fillenwarth
Colleen & Chris Fuydal
Elizabeth & Brian Gantz
John & Jo Lynn Garing
Coley & Kristi Gaynor
Tom and Kim Gutzwiller
Anne & Bob Harless
Steve & Therese Hartley
Chrissy & Bryan Heim
Brad & Katie Horton
Mike & Anne Hurley
Mike & Beth Jansen
Jim & Carol Joven
Megan and Todd Kalesperis
Kiernan & Melissa Keating
Jennifer & Richard Kelly
Shannon & Frank Kelsey
Dan and Jody Kirchgessner
Michael & Melissa Knapp
Maria & Dale Knight
Mark & Dawn Koers
Katie and Ted Kolbus
Nate & Erica Lelle
Tom and Suzanne Lewis
David & Jill Machala
Andy & Jill Manchir
Mark & Jessica McAllister
Christine McConnell-King
Brian and Amy McDonald
Mary McGillicuddy
John & Christine McHugh
Tim & Maureen Meek
Jack & Candice Mees
Bryan & Sheila Miller
Chad & Angela Minch
Jennifer & Pete Mungovan
Pat & Amy Murray
Michael & Melinda Nash
Joseph & Stephanie O'Brien Family
Daniel and Colleen O'Brien
Tom & Elizabeth O'Gara
Jeff Olson
Beth Olson
Jennifer & Shannen Priser
Aileen & Jeff Puno
Julie & Charlie Revard
Mike & Polly Reynolds
Kenny and Misty Roseman
John and Paula Ryan
Bill & Cokie Scheidler
Tom Schulte
Mike & Holly Semler
Shannon Shaw
Amy and Fred Solomon
Scott & Suellyn Sorensen
Kevin and Liz Sowinski
Philip & Tanie Squier
Steve & Wendy St John
Jill and John Starliper
Nancy and Joe Steadham
Jim & Kelly Stehlik
Greg & Janet Thatcher
Mike & Angie Tragesser
Amy and Scott Treida
Joanna Tuohy
Jim & Joan Voyles
Adam and Meri Weber
Jeff & Michelle Wuensch
Kathryn and Russell Yurk
John and Lori Zehner
2020/21 White Members
Maggie Albright
Rob Albright
Merle Bettenhausen
Amie Bowman
Jennifer Chan
Christel Didat
Shontel & Scott Fischer
Brenda Keefe
Scott & Molly Kinnett
Bill Michaelis
John & Julie Nagel
Catherine & Scott Nickerson
Brigid O'Brien
Adrienne Quill & Kriss Anderson
Derek Redelman
Marijane Selvaggio
Paul and Michele Spencer
Nicolette Troncoso
Emily Wann
Jennifer Wood-Thompson
2020/21 Members
Jim and Kathie Church
Kevin and Lisa Doyle
Mike & Elaine Ford
David and Caroline Hakanson
Charles Harpenau
Chuck & Maria Harr
Jessica & Eric Sessions
Dan McNally
Brian & Shannon Wiltshire
Chris Wuensch
2021/22 Athletic Booster Club Board of Directors
ATHLETIC DIRECTOR
Mike Ford
251-1451 x2256
mford@bishopchatard.org
CO-PRESIDENTS
Joe Annee
jannee@trilogyinc.com
Amy Beausir
mollyandmyrtle@gmail.com
EMERITUS
Phil Squier
Philip.Squier@gmail.com
Lisa Montgomery
Lisa.montgomery@crowe.com
MEMBERSHIP
Jennifer Priser
boilerjen23@gmail.com
TEAM REP LIAISON
Eileen Countryman
countrymaneileen@yahoo.com
SPONSORSHIPS & SEASONAL PUBLICATIONS
Mike Ford
251-1451, Ext. 2256
mford@bishopchatard.org
AT LARGE
Jim Barbar
jimbarbar@ymail.com
Gary deCastro
Gary_decastro@yahoo.com
Christine Konvolinka
Christine.konvolinka@benefitsolutionsus.com
John Garing
John.garing2000@gmail.com
About BCHS Athletics Booster Club
Our Activities
Fall Membership Drive
Trojan Tailgating
Fall, Winter & Spring Sports Magazines
Trivia Night
Spring Garage Sale
Our Sponsorships
Money raised supports all levels of student-athlete activites and needs at BCHS.
Our Mission
The Bishop Chatard Booster Club seeks to support all athletic programs at Bishop Chatard High School by promoting excellence, pride, good sportsmanship and a sense of community amongst the student body and all who support Bishop Chatard Athletics.
With over 75 percent of the students at BCHS participating in at least one sporting activity, the Athletic Booster Club strives to enable these students to participate in a supporting environment.