Welcome to the BCHS Spirit Shoppe – New Year, New Gear, New Location!
The BCHS Spirit Shoppe is moving to the area near the concession stand and will be open from 11:30 – 1:30 Tuesday – Friday, on full school days, when construction is complete. Watch this space.
In the meantime, don't miss these opportunities to shop:
At Varsity Home Football games: The Spiritwear Trailer will be at these games (not including the initial scrimmage)
August 19 (Fri.): 2-3:30 p.m. after school, either in the new Spirit Shoppe, or the Spiritwear Trailer, exact location TBD (this is before the BCHS vs Brebeuf game at Lucas Oil Stadium)
August 25 (Thurs): 5:30 – 8:00 p.m. during the Volleyball games
September 3 (Sat.): All Day. The Spiritwear Trailer will be at the Freshman and JV football games, and Varsity soccer game this day.
The online store is open 24/7. See ordering info below.
---
Online Sales – Always Open!
Our online shop is always open – 24/7 – and carries all of the same items you will find in the Shoppe!
Shipping/Delivery
: Select the 'Take Home' option during checkout and your order will be sent home with your BCHS student for free! Select the 'Shipping' option and items will be delivered to your door ($10 shipping fee applied)!
---
Return Policy for all Items
Refunds and exchanges for online or in-store purchases can be made within 30 days only. ALL SALE ITEMS ARE FINAL.
---
Questions about Spiritwear or your order?
Contact Dawn Koers, our Spirit Shoppe and Online Store Manager, at spiritshop@bishopchatard.org. (Please do not contact the BCHS Athletics Office for Spirit Shoppe questions or information. Thank you!)
---
BCHS Spirit Shoppe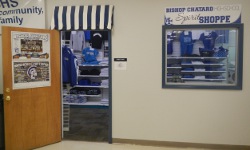 Our Shoppe carries a number of general spirit wear items from value-priced to name brand including Champion, Columbia and Under Armour. Find anything from:
T-Shirts & Sports Performance Shirts
Hoodies & Crew neck Sweatshirts
Golf Shirts & 1/4 zips
Women's styles; Youth and Toddler sizes
Baseball hats, Flags, Drink-ware, Stickers & Car Decals and many more accessories!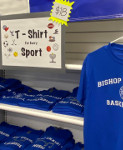 We also now carry a T-Shirt for every sport!
**If you are looking for additional sport-specific spirit wear, contact your coach or team parent.
---
Uniform-Approved Sweatshirts
Official uniform sweatshirts are available ONLY through the Bishop Chatard Spirit Shoppe or the ONLINE BCHS Spirit Shoppe.
These can be worn any day of the week and include an embroidery of the school crest. No other sweatshirts are approved. The two uniform sweatshirts are:
Uniform Approved 1/4 Zip Sweatshirt (royal blue): $32 (plus tax)
Uniform Approved Crewneck Sweatshirt (gray): $20 (plus tax)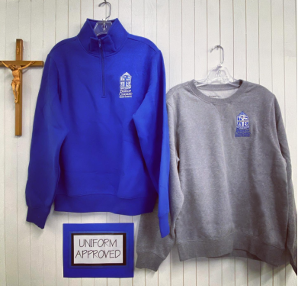 ---
A snapshot of some of our spiritwear items!
























For any Spirt Shoppe questions, please contact spiritshop@bishopchatard.org.