2021-2022 – Welcome!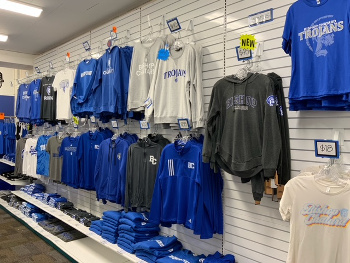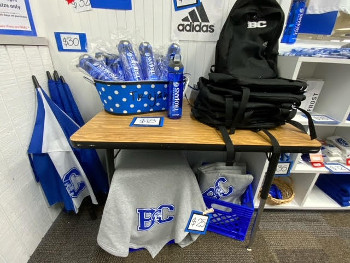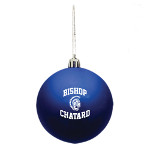 Welcome to the BCHS
'Holiday Spirit'

Shoppe!

It's time to check off your Christmas list with a gift of Bishop Chatard spiritwear! Lots of new items and some old favorites are available through the BCHS Spirit Shoppe, either in the store or online!
Spirit Shoppe December Hours
Tuesday through Friday, 11:30 – 1:30 p.m. until Friday, Dec. 10
Saturday, December 11 – 10:00-noon
Monday, December 13 – 11:30-1:30 p.m.
Friday, December 17 – 5:30-7:30 p.m.
Tuesday, December 21 – 5:30-7:30 p.m.
---
Online Sales – Always Open!
Our online shop is always open 24/7.
Holiday Delivery Info
Orders placed online have the following options for delivery:
Shipped for a flat $10 fee.. Orders should be placed by Dec. 13 to help ensure Christmas delivery.
Sent home with a student for FREE: Last day for this option is Dec. 13 – the last full day for students before break
This is a Gift – Pick up in the Store for FREE: This option is only available for the December hours when the Spirit Shoppe is open (see above). The customer will be notified when their item is ready to be picked up in the Spirit Shoppe
Terms and Conditions
Refund Policy: Refunds and exchanges within 30 days only. ALL SALE ITEMS ARE FINAL.
---

Follow us on Twitter for news, sales and the latest store hours!
---
Questions about Spiritwear or your order?
Contact Dawn Koers, our Spirit Shoppe and Online Store Manager, at spiritshop@bishopchatard.org. (Please do not contact the BCHS Athletics Office for Spirit Shoppe questions or information. Thank you!)
---
BCHS Spirit Shoppe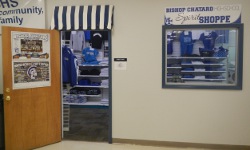 The Bishop Chatard Spirit Shoppe is located within the cafeteria at BCHS.
It is open from 11:30 a.m. – 1:30 p.m., Tuesday through Friday.
Our Shoppe carries a number of spirit wear items from adult down to toddler sizes. Items range from value-priced to high-quality including:
T-shirts & sports performance shirts
Hoodies & crew-neck sweatshirts
Golf shirts & 1/4 zips
Jackets, baseball hats, lots of accessories…. and more!
*Please contact your team manager for more information on sport-specific spirit wear.

Follow us on Twitter for news, sales and the latest store hours!
---
Uniform-Approved Sweatshirts
Official uniform sweatshirts are available ONLY through the Bishop Chatard Spirit Shoppe or the ONLINE BCHS Spirit Shoppe.
These can be worn any day of the week and include an embroidery of the school crest. No other sweatshirts are approved. The two uniform sweatshirts are:
Uniform Approved 1/4 Zip Sweatshirt (royal blue): $32 (plus tax)
Uniform Approved Crewneck Sweatshirt (gray): $20 (plus tax)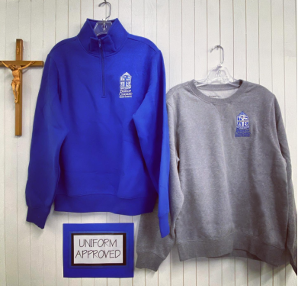 ---
A snapshot of some of our spiritwear items!




























For any Spirt Shoppe questions, please contact spiritshop@bishopchatard.org.