BCHS Spirit Shoppe
The Bishop Chatard Spirit Shoppe specializes in a variety of spirit wear from adult to toddler sizes. Items range from value-priced to high-quality items. Items include:
Popular t-shirts for all sizes: $15 to $20
Sports performance shirts: $20
Hoodies & crew-neck sweatshirts: starting at $24
Women's fashion tops from Columbia: $45
Men's Columbia golf pin stripe shirts: $45 (no stripes: $40)
Jackets
Baseball-style caps: $20
Please contact your team manager for more information on sport-specific spirit wear.
---
Hours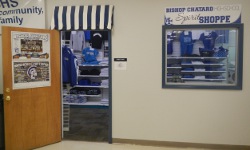 The Spirit Shoppe is typically open from 11:30 to 1:00 (during lunch hour) on school days and also open during various Varsity Home events. If you can not come to the Spirit Shoppe during lunch period hours, contact the Athletic Office to arrange a time to come by. The Spirit Shoppe is located on the south side of the cafeteria.
---
Uniform-Approved Sweatshirts
A quarter-zip uniform sweatshirt in royal blue and a gray crew-neck sweatshirt are the ONLY official approved uniform sweatshirts for Bishop Chatard school wear.
These official uniform sweatshirts are available ONLY through the Bishop Chatard Spirit Shoppe. Both items can be worn any day of the week and include an embroidery of the school crest.
Royal Blue 1/4 zip: $32 (plus tax)
Gray Crew Neck Sweatshirt: $20 (plus tax)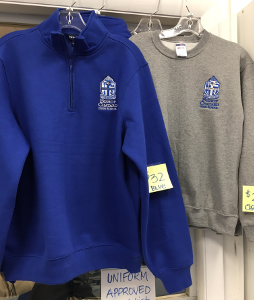 ---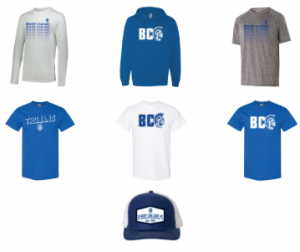 Online Spiritwear Orders
Selected spiritwear items are now available for purchase online, beginning in the summer of 2020. Order delivery details will be posted as they become available.
---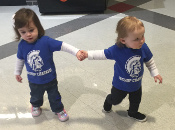 BCHS Spirit Shoppe Gift Certificates
Gift certificates to the Spirit Shoppe can be purchased in the amount of your choice. Contact the BCHS Athletic Office or the Spirit Shoppe for details.