Physicals and 'Ticket to Play'
2020/2021 Initial Paperwork for Athletes of any sport
---
Class of 2024 Incoming Freshmen and New Athletes
Freshmen athletes and new athletes (upperclass who didn't play last year) are required to turn in the following:
---
Returning Athletes
*You can include all of your athletes in one online Eligibility Form even if they will not be participating in a sport until winter or spring.
---
---
---
TICKET TO PLAY – Eligibility Pass
Every student-athlete needs to present a personal "Ticket To Play"
to the head coach of
each sport
they participate in before they can begin any team involvement– summer or seasonal conditioning, practice, etc. It is verification that the student is an eligible athlete, with all documentation on file in the Athletic Office.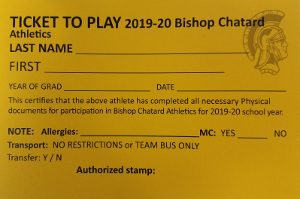 Note: 'Tickets to Play' will be digitally issued this fall, after the required forms are submitted.