Physicals and 'Ticket to Play'
Physicals must be given AFTER APRIL 1, 2019 to be valid for the 2019/2020 school year.
You MUST HAVE YOUR TICKET TO PLAY before participating in any summer sports practices, conditioning, tryouts, etc. (see below) ALL Summer athletes will be required to have their 'Tickets to Play' by Monday, June 10, in order to workout with whatever teams they are interested in. This allows time for using the June 3rd Physicals Night.
Sports Physical Night – June 3, 2019 (Monday) 6-8 p.m.
Located in the BCHS varsity gym
Cost is $30.
Cash or checks only, payable to Bishop Chatard High School
Bring with you the needed paperwork (see below)
Open to ALL.
ARRIVAL TIMES: Students can come at any time during the evening. By 7:30, the crowd has decreased.
WHO CAN ATTEND: These physicals are open to any student of any age. You do not need to be a BCHS student. Bring in your IHSAA form for high school ages or CYO physical form for grade school ages.
We strongly encourage all athletes to attend the sports physicals night. This physical is valid for the entire 2019/2020 school year.
PHYSICAL NIGHT REQUIRED FORMS
Forms will be available the night of physicals, but those that have the forms completed will be seen first. FORMS MUST BE COMPLETE BEFORE YOU GET IN LINE (They require parent signatures.)
If you miss this Sports Physical Night, physicals can be completed by your personal doctor on the IHSAA physical form. Questions? Contact the Athletic office, 251-1451 ext 2249.
---
---
TICKET TO PLAY – Eligibility Pass
Every student-athlete needs to present a personal "Ticket To Play"
to the head coach of
each sport
they participate in before they can begin any team involvement– summer or seasonal conditioning, practice, etc. It is verification that the student is an eligible athlete, with all documentation on file in the Athletic Office.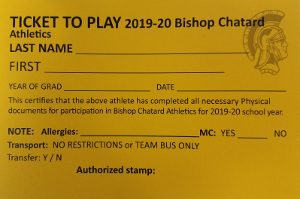 TWO Required Forms
To receive your 'Ticket To Play' for your sport and be eligible to participate in practices, conditioning, games, etc., we REQUIRE the following to be current and on file with the Athletic Office:
Part I: IHSAA Physical Form IHSAA Pre-Participation Physical Evaluation

(4 pages)

IHSAA requires the form to be signed by a physician (MD or DO), nurse practitioner (NP) or physician assistant (PA). A parent and student also need to sign it.
Part II: BCHS Eligibility Form BCHS Athletic Eligibility Form – Electronically submitted only This form includes the Code of Conduct, SCA (Sudden Cardiac Arrest), Concussion Information, Emergency Contacts, Medical Treatment Release and Travel Authorization. Part II form will be submitted electronically only. This electronic form must be submitted in the presence of student athlete(s) AND parent.
How do I get my 'Ticket to Play' card?

After you have completed the Part II: Eligibility Form online, bring in the completed Part I: IHSAA Physical Form to the Athletic office anytime, 8AM-4PM (M-F) and we will exchange a passed IHSAA Physical document for a Ticket to Play card- on the SPOT! If you are are conditioning in more than one sport…we can give you more than one card!

All forms must be dated on or after April 1, 2019 for the 2019/2020 school year.
Questions? Contact the Athletic Office.