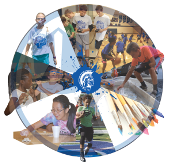 April 13, 2020
The teachers, coaches and students of Bishop Chatard High School thoroughly enjoy hosting our North Deanery grade and middle school students each summer in the BCHS camp program. As much as we value the opportunity to spend time helping our campers develop new skills, we put an even greater emphasis on protecting their health and well-being. As a result of the threat that the COVID-19 pandemic has caused in our world, Bishop Chatard has made the difficult decision to cancel its 2020 Summer Camp program.
To all who have registered for athletic or enrichment camps this summer, we apologize for any inconvenience this may cause. The amount paid for summer camp is being refunded to the credit card used for your registration.
All of us at Bishop Chatard High School look forward to the day when our campus will again be filled with energetic young people actively learning and participating in a multitude of extracurricular activities. Until that day comes, we will keep you in our prayers, and we ask that you do the same for us. Together, we will all get through this difficult time.
Questions? Contact Maureen Malarney at summercamp@bishopchatard.org