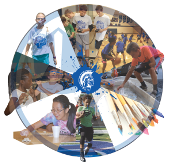 Spend The Day With Us: Sports & Enrichment Camps
Bishop Chatard High School offers a variety of camps that encourage 1st through 8th grade students to explore new interests, challenge their imaginations and hone current skills. Athletic and enrichment camps appeal to students interested in theatre, technology, music, sports, community service, art and more.
Half and full-day camps are available, or your child may bring a lunch and experience different camps in our morning and afternoon sessions. Early-bird and multiple camp discounts are available.
Registration for Sports Camps will remain open and walk-in registration is available on the first day of camp.
Camp Details
GRADE LEVEL: All grade levels listed are grades the student will be entering in the Fall 2019.
TIMES: Each camp will run four days, Monday – Thursday. Unless otherwise noted, morning camps run 9:00 a.m.-noon; afternoon camps are 12:30-3:30 p.m. Intencity Service Camps are full day, 8 a.m. – 3 p.m. Please note there is no early or after care available.
COST: Unless otherwise noted below, the first camp is $95. Our Multi-Camp Discount** gives $10 off for each additional camp per camper. Girls volleyball camps grades 3-6 are not eligible for the multi-camp discount. Your spot in any camp is not held until payment is received.
**Multi-camp discounts will be applied to the second and all subsequent camp registrations for a camper that are completed in one online registration session. The multi-camp discount can not be carried over when starting a new session.
WAITING LISTS: To be added to the waiting list for any camps that are full, complete the online registration. There is no charge to be added. BCHS will contact you if a spot becomes available.
REFUND POLICY: Refunds for camp cancellations will be given through May 1.
LUNCH: All campers attending morning and afternoon sessions are invited to bring a sack lunch and dine in our school cafeteria in the 30 minutes between camps, noon – 12:30. Supervision is provided.
Sports Camps Questions: Contact Anne Harless, 251-1451 ext. 2249, or aharless@bishopchatard.org
Enrichment Camps Questions: Contact Maureen Malarney at summercamp@bishopchatard.org
Registration and Payment
All registration and payment should be made online. Registration for all BCHS summer camps can be made on the same form.
If you are unable to pay online, please contact summercamp@bishopchatard.org
Camp price is dependent on the date payment is received.
Parents who registered campers last year can sign in to their previous account at ACTIVE.com. New users will be prompted to create an account when completing their first camp registration.
Summer Enrichment Camp registration is now closed. Registration for all sport camps remains open and walk-up registrations will be accepted.
2019 ATHLETICS and ENRICHMENT CAMPS
June 10 - 13, 2019
Morning
9:00 – Noon
Baseball (3-8 Grade)
Boys Volleyball (3-8 Grade)
Boys Lacrosse (3-8 Grade)
Creating With Clay Part I (6-8 Grade); $150 (2 week session)
Cooking Level I (4-8 Grade)
Afternoon
12:30 – 3:30 p.m.
Girls Basketball (3-8 Grade)
Pop Art! (4-8 Grade)
Introduction to Trobotics (5-8 Grade)
June 17 - 20, 2019
Morning
9:00 – Noon
Girls Volleyball (7-8 Grade)
Girls Soccer (3-8 Grade)
Creating with Clay Part II (6-8 Grade)
Robotics Skills (6-9 Grade)
Theatre (5-8 Grade)
Cooking Level II (4-8 Grade)
Afternoon
12:30 – 2:00 p.m.
Girls Volleyball (3 & 4 Grade, $60)
2:15 – 4:15 p.m.
Girls Volleyball (5 & 6 Grade, $80)
12:30 – 3:30 p.m.
Wrestling (3-8 Grade)
Girls Lacrosse (3-8 Grade)
Art of Harry Potter (4-8 Grade)
Improv Comedy (5-8 Grade)
June 24 - 27, 2019
Morning
9:00 – Noon
Football (3-8 Grade)
Boys Soccer (3-8 Grade)
Cheerleading (3-8 Grade)
Everyone Can Code (5-8 Grade)
Creative Writing (4-8 Grade)
Afternoon
12:30 – 3:30 p.m.
Boys Basketball (3-8 Grade)
Softball (3-8 Grade)
For full descriptions of our enrichment camps, go to our Camp Page on the main website.
FULL DAY CAMPS
CAMP INTENCITY SUMMER SERVICE CAMPS
IntenCity Summer Service Camp is a day-camp opportunity for students grades 1-8 to share their time and talents with those in need. These camps are week-long, Monday-Thursday, 8 a.m. to 3 p.m. Camp sessions are scheduled for Grades 1-4, 5-6, or 7-8. Cost for Jr Intencity Camp (grades 1-4) is $115; cost for Intencity Camp (grades 5-8) is $130. Register early, as these fill up very quickly!