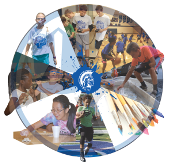 Spend The Day With Us: Sports & Enrichment Camps
Bishop Chatard High School offers a variety of camps that encourage 1st through 8th grade students to explore new interests, challenge their imaginations and hone current skills. Athletic and enrichment camps appeal to students interested in theatre, technology, music, sports, community service, art and more.
Half and full-day camps are available, or your child may bring a lunch and experience different camps in our morning and afternoon sessions. Early-bird and multiple camp discounts are available.
This area is under construction as we switch to the 2020 Camp Schedule. Camp schedule will be displayed on January 21. Registration will open on Monday, January 27.
2020 ATHLETICS and ENRICHMENT CAMPS
June 8 - 11, 2020
Afternoon
12:30 – 3:30 p.m.

June 15 - 18, 2020
Afternoon
12:30 – 2:00 p.m.

June 22 - 25, 2020
Afternoon
12:30 – 3:30 p.m.

FULL DAY CAMPS
CAMP INTENCITY SUMMER SERVICE CAMPS
IntenCity Summer Service Camp is a day-camp opportunity for students grades 1-8 to share their time and talents with those in need. These camps are week-long, Monday-Thursday, 8 a.m. to 3 p.m.
Check back for camp details