Boys Volleyball is 2021 Regional Champ
May 17, 2021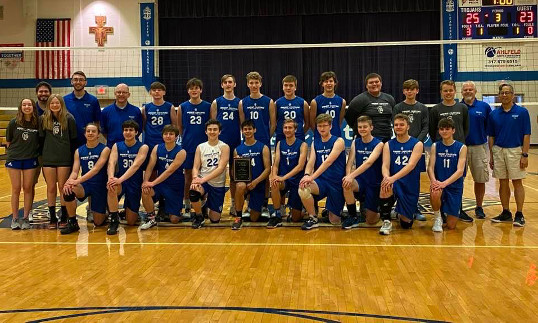 Congratulations to the #8 2021 BCHS Boys Volleyball Team, as they won their FIRST REGIONAL Championship. Bishop Chatard advanced to the State Final Round by winning Regional 2 (hosted at Bishop Chatard), defeating Covenant Christian 3-0 (25-7, 25-12, 25-13) in the Regional Semifinal and #9 Silver Creek 3-0 (25-22, 25-15, 25-23) in the Regional Championship match.
This is a young team: of the 16 players on the roster for the State Tournament, only 2 are Seniors. The rest: 5 Juniors, 6 Sophomores, 3 Freshmen. This victory marks a lot of firsts for the Trojans — some their first varsity games, some their first tournament games, and the first championship!
Unfortunately, the team was defeated by #1 Roncalli in the next round.