Patrick Mastrian is named 2020 Male City Athlete of the Year
June 3, 2020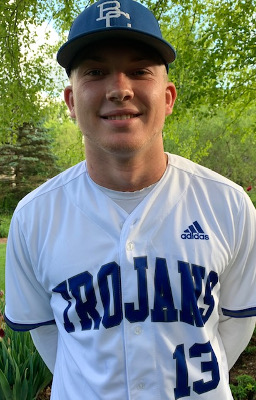 Congratulations to Trojan Patrick Mastrian, named the 2020 City Male Athlete of the Year by the Marion County Athletic Association.
Patrick was a four-year letter winner in baseball, a three-year letter winner in football, and he rejoined the basketball squad after a two-year absence to letter once. In football he displayed his athletic range with scoring on pass receptions, but defense was his forte as he established a new school record with returning four interceptions during the 2019 season for touchdowns and recording 12 interceptions over his Junior and Senior seasons. Patrick also had a knack for blocking extra points and field goals, establishing the school record for career blocks. He helped lead his football squads to three sectional, two regional, one semi-state championships, as well as the 2019 3A State Football Championship.
Patrick decided to play basketball again in 2019-2020 after sitting out two seasons, and he helped lead the squad to its best record in eight years and only its second 15-win season in the past 12 years. He recorded stats of 9.4 ppg, 49% FG, 4.5 rpg, 1.5 spg, 1.0 apg.
But baseball is Patrick's best sport, and coaches say that he is capable of playing any position on the field. He had a career batting average of .348 and pitching ERA of 2.34. He also established a Bishop Chatard school record for career triples with 12. These stats are even more impressive when you consider his Senior season was cancelled. He was named All Conference twice, All City once and was looking forward to a significant Spring season prior to its cancellation.
Patrick's leadership is evident with his being named team captain in each of his three sports. Patrick is a very talented student who will be attending the University of Michigan to continue his baseball career and study Kinesiology.