5 Wrestlers advance to 2023 Semi-State
February 12, 2023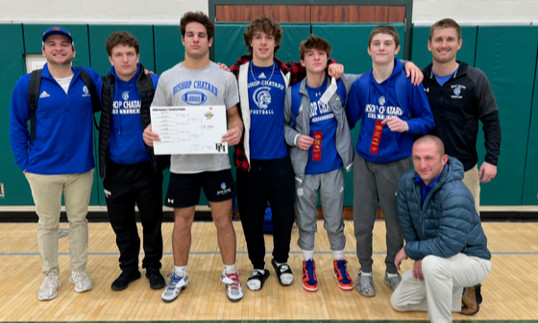 Congratulations to the following BCHS wrestlers, who advanced to the 2023 Semi-State contest. The team placed 4th in the Regionals. Pictured above are those advancing to the Semi-State. At the semi-state, all wrestlers made it to the 'ticket round' where their season came to an end.
Regional Results
Jack Davis: 2nd (126)
Sam Bustamante: 2nd (132)
John Rushenberg: 2nd (160)
Kade Rickard: 3rd (170)
Jef Waugh: 1st (195)
Come cheer them on in the Semi-State at New Castle on Feb. 11.
Sectional Results
The team placed 2nd in sectionals, with the following
Ethan Lyon: 4th
Tate Chesebrough: 5th
Gabriel McNamee: 4th
Jack Davis: 2nd
Sam Bustamante: 2nd
Ethan Brown: 5th
Charlie Rushenberg: 5th
John Rushenberg: 1st
Kade Rickard: 2nd
Jack Dixon: 5th
Jef Waugh: 1st
Andrew Troy: 3rd
8 wrestlers advanced to regional action!