Spring Sport Yard Sign orders: due April 7
March 13, 2023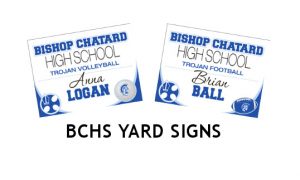 Show your Trojan Pride all season long with a YARD SIGN! Orders are now being taken for yard signs for 2023 BCHS spring sport athletes: $25 (one-sided) or $35 (2-sided, both sides the same). This is an optional sign for personal yards.
Order deadline is Friday, April 7, 2023.
Questions? Contact Anne Harless in the Athletic Office.
Alternate Paper Order Form